Why does my skin change in winter?
When it's cold, our skin produces less skin fat. Without this protective lipid layer, moisture evaporates faster from the surface of the skin. Heating air accelerates this process. The skin becomes drier. The best counter-strategy is a rich water-in-oil cream such as RINGANA's FRESH cream rich, and FRESH lipids for intensive care. They form a thin protective layer on the skin, preventing it from drying out.

Dry patches on my face. What to do?
Sensitive skin lacking moisture and fat is particularly vulnerable when it's cold. It becomes irritated and may even develop red, scaly patches. RINGANA is familiar with this problem and, in response, it has developed its lipid-rich additional care product, FRESH lipids. These are applied to the problem areas and work like a protective winter coat. When smoothing scaly patches, exfoliating with FRESH scrub is a great idea.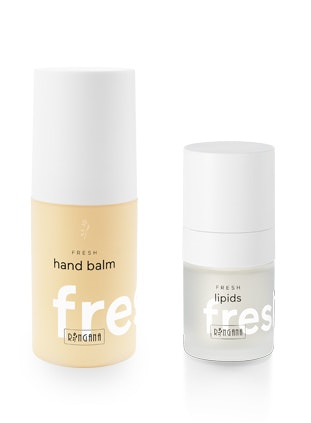 What can I do about chapped hands?
Cold, wind and wet weather can be very tough on hands in winter. Washing our hands is an important precaution during the flu season – but it removes further skin fat. If your hands feel even drier after you've put cream on them, then you should switch your hand cream and use one without perfumes – such as FRESH hand balm with macadamia nut oil and antioxidant chia seed oil.  Tip: Use as a pack for your hands, combined with FRESH lipids – apply generously.


I always have chapped lips in winter. What can I do?
Don't moisten your lips with your tongue or nibble off flakes of skin with your teeth. That will make the problem worse. The best thing to do: make regular use of FRESH tooth oil. The sesame oil it contains has a nurturing effect and promotes skin regeneration. Then apply a generous layer of FRESH lip balm to your lips. The delicate skin of the lips is nourished by the plant substance dragon's blood extract and selected berry waxes.

Rough, scaly skin. What can I do about it?
When you shower and moisturise, go for ultra mild products that restore lipids.
Tip: FRESH body wash cleanses with mild sugar tensides. Our rich FRESH body milk with high-quality lipid-restoring plant oils such as avocado oil or shea butter ensure that your skin doesn't dry out again.