Proteins are essential for our survival. They not only provide the basis for building new muscle and help us to regenerate faster after sport, but they are also an important element of organs, enzymes and hormones. So it's obvious that everybody needs protein, not only athletes.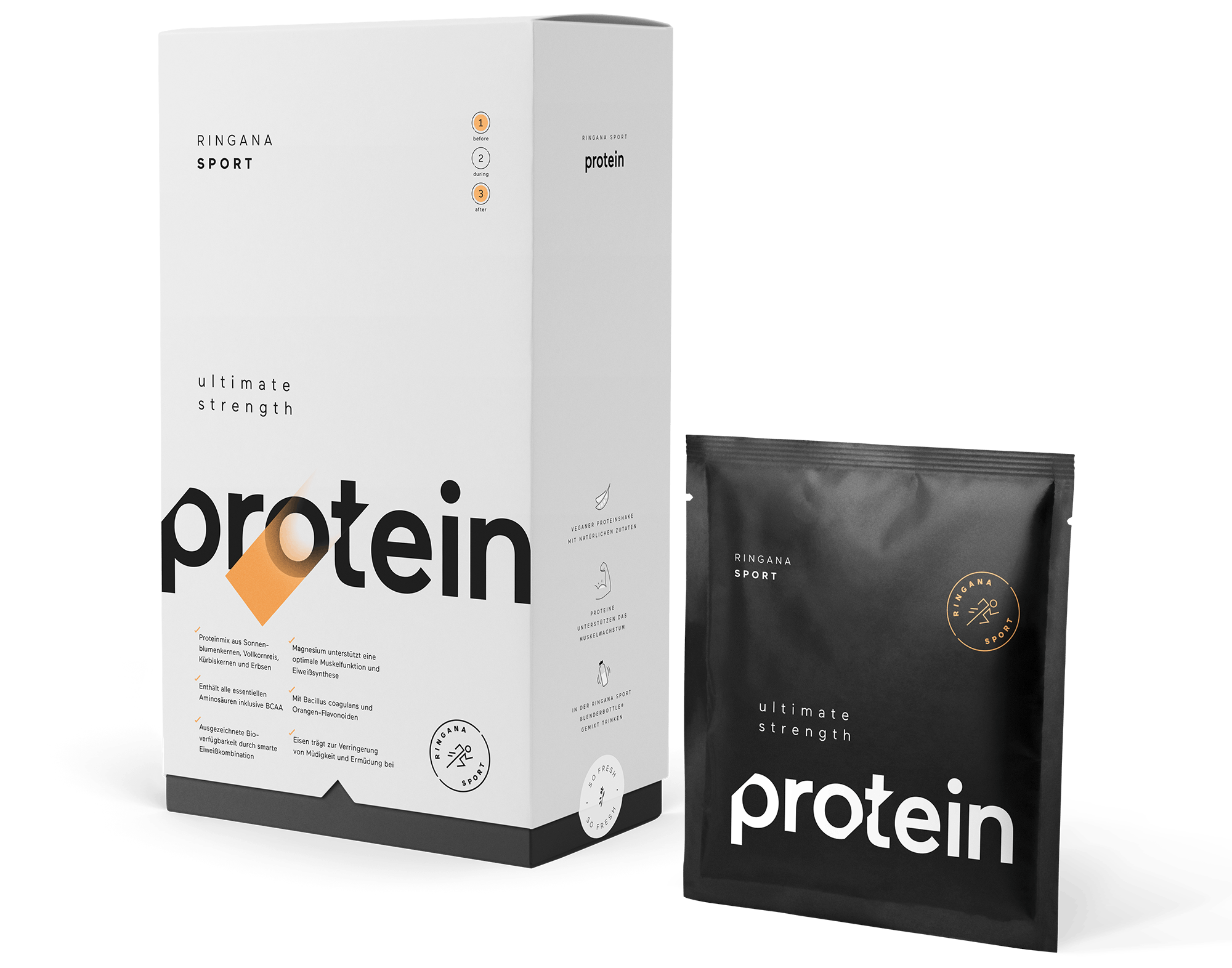 The new RINGANA SPORT protein is the easiest and most convenient way of ensuring that, alongside a balanced diet, we get an adequate supply of protein.
This smart protein mix of sunflower seeds, wholegrain rice, pumpkin seeds, linseed and peas has excellent bioavailability. Bioavailability describes how well the body can convert the protein we consume into its own protein.
Formulation
The innovative formulation contains all the essential amino acids inclusive of BCAA, which support the maintenance and increase of muscle mass. Bioactive micronutrients ensure optimum body function. Vitamin D2 from mushrooms, for instance, helps to maintain muscle function. Riboflavin, biotin and Vitamins B6 and B12 from quinoa sprout powder play an important role for the energy metabolism. Magnesium from sunflower seeds and magnesium citrate promote optimum protein synthesis, while natural iron helps to reduce tiredness and fatigue.
Each batch undergoes NEM analysis for doping substances to test for anabolic steroids and stimulants at a world-leading laboratory.


Overview
SPORT protein
Protein mix of sunflower seeds, wholegrain rice, pumpkin seeds and peas
Contains 26 g of protein per serving, and all essential amino acids including BCAA
Excellent bioavailability thanks to smart protein combination
Magnesium promotes optimum muscle function and protein synthesis
With Bacillus coagulans and hesperidin from orange extract
Iron helps to reduce tiredness and fatigue