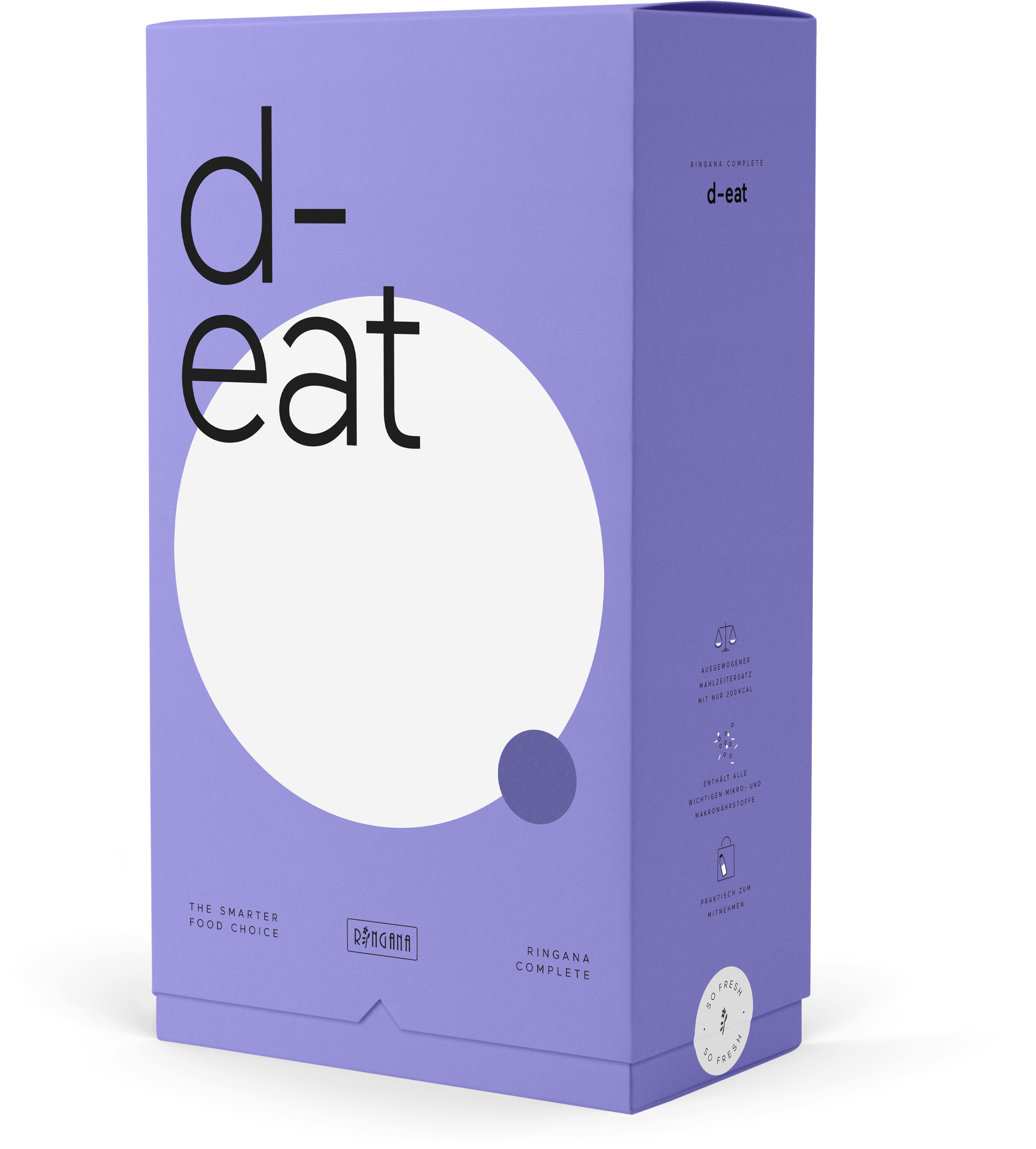 Taking nutrition to a whole new level
with RINGANA COMPLETE d-eat
Austria's fresh skin care manufacturer RINGANA has impressed again with their latest dietary product: RINGANA COMPLETE d-eat is a balanced nutritional shake with only 200 kcal per pack. It is easy to prepare and supplies the body with all the important nutrients it needs.
Faster – higher – farther: day-to-day stress is putting more pressure on people than ever before and that's also having an impact on diet. Most people can't find the time to buy high-quality, nutritious food. All too often, we go for junk food, while vegans suffer because of the lack of suitable products. That's why RINGANA has developed COMPLETE d-eat – a healthy go-the-go shake based on a very clever concept.
COMPLETE d-eat
14 sachets
700 g – £ 53,10
A good solution for lots of lifestyles
One sachet of COMPLETE d-eat is the same as a full, balanced meal and contains all the important nutrients that a healthy person needs. "We have created a quick, easy option that not supplies all the necessary nutrients, but is also of complete natural origin," explains RINGANA boss Ulla Wannemacher. "That means I can enjoy a balanced meal anytime, even when I'm travelling, with no hassel."
Both natural and sophisticated
In developing this product, the manufacturers were keen to ensure that all of the ingredients were natural, and that no artificial flavourings, sweeteners or other synthetic additives were used. The overall recipe relies on natural vegan protein sources such as wholegrain rice, linseed, peas and sunflower seeds, as well as all the essential amino acids. It also offers the best in carbohydrates (e.g. from rice) as well as roughage from guar kernel and citrus fibre. The full spectrum of vitamins and minerals supplies the body with all the important micronutrients and delivers the perfect ratio of Omega-3 fatty acids from microalgae and linseed oil, as well as Omega-6 fatty acids from thistle oil.
Weight management and easy preparation
Apart from the big advantage of being a balanced meal, RINGANA COMPLETE d-eat is also very helpful with weight control. Preparation is quick and easy: simply mix with 300 ml water in the RINGANA Glass Shaker. The blended drink has a mild, neutral flavour and a creamy texture, and can also be used as the basis for customised recipes. That offers lots of scope for putting a new spin on it, and adding variety.
RINGANA
pink power
I N G R E D I E N T S
1 COMPLETE d-eat
150 ml water
50 ml beetroot juice
50 ml carrot & apple juice
1 teaspoon turmeric
P R E P A R A T I O N
Put water, beetroot juice and
carrot juice into the RINGANA
Glass Shaker. Add the contents of one sachet of COMPLETE d-eat
and a teaspoon of
turmeric.
Shake it, drink it!


RINGANA
chocolate frappé
I N G R E D I E N T S
1 COMPLETE d-eat
3 teaspoons drinking chocolate powder
300 ml water



P R E P A R A T I O N
Simply mix all the ingredients together in the RINGANA
Glass Shaker
and enjoy – hot or cold.
Shake it, drink it!