Beauty Essentials
Right on time for the holiday season, RINGANA presents the perfect list of beauty products to take with you.
Hartberg, March 2019. Summer's just around the corner – which means holiday season is upon us. Whether you plan to  relax by the sea, hike through the mountains, or stroll around a big city, the fresh skin care brand RINGANA presents the sustainable and vegan beauty essentials you need for city, beach and sport.

RINGANA beauty buddies for travelling
#1
Great news! Many of the RINGANA products are also available in travel size, so comply with the 100ml limit for air travel. RINGANA also produces sustainable, transparent travel bags made of recycled PET, perfect to hold all your essentials through security.
#2
Everyone knows you must have moisturising facial care on holiday, right? The RINGANA FRESH sample box light (4 x 15 ml – from € 9.50) contains no fewer than four natural facial skin care minis – from cleansing to moisturising – we've really thought of everything!
FRESH cleanser RINGANA's mild cleansing milk removes dirt and make-up gently and thoroughly. A special RINGANA plant complex with sweet clover, jojoba and ginkgo stabilises the natural acid protection barrier. Almond kernel oil and grape seed oil pamper the skin.
FRESH tonic pure This high-quality tonic contains an extract from the mulberry tree that prevents shine and hydrates. Maritime pine extract provides the skin with high-performance antioxidants and protects cells from free radicals. High-end plant extracts from thyme, cypress, St. John's wort, common horsetail and witch hazel strengthen the natural skin barrier and refine the complexion.
FRESH hydro serum This thirst quencher for dry skin provides maximum hydration with the amino acid ectoin. Carefully chosen plant bud extracts also work to protect cells. Hyaluronic acid boosts the skin's ability to bind moisture, lending it lift and elasticity.
FRESH cream light This light moisturising cream brightens the complexion with an extract from black elderberry, ensuring an even skin tone. Aloe vera fresh plant juice delivers moisture, while cherry bud extract protects the cells against premature aging.

Good to know: The FRESH sample box is also available for dry and combination skin.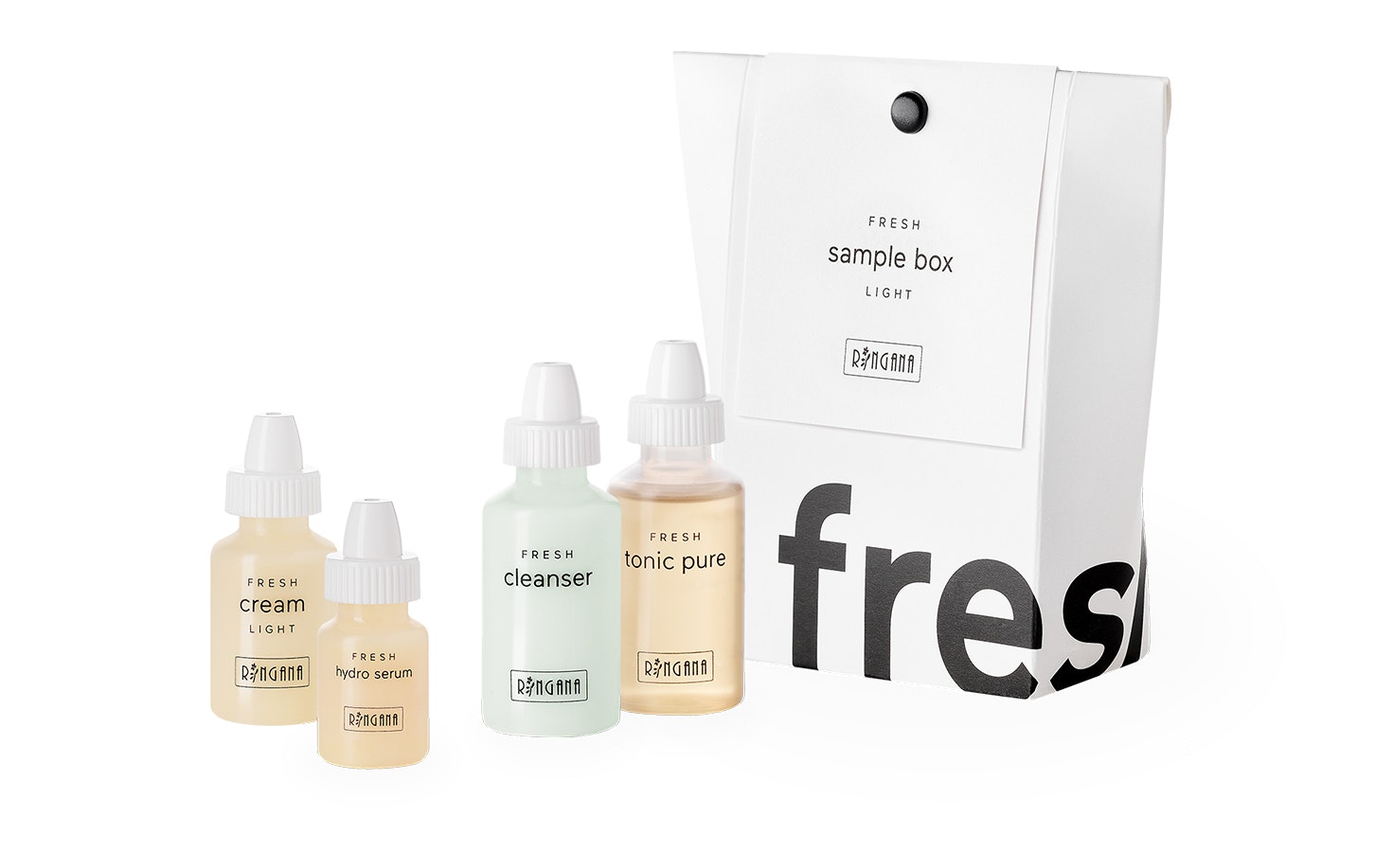 #3
Not only have we thought about the face, we've got the body covered too. The FRESH sample box body (3 x 15 ml – from € 8.70) contains three natural body care minis which will ensure you have velvety-smooth skin from top to toes when you're travelling
FRESH hand balm Our FRESH hand balm intensively nourishes and protects hands and nails. It soothes and regenerates skin with valuable seed oils from cranberry, raspberry and chia. Rough hands get long-lasting care, restoring their soft, supple feel.
FRESH foot balm This quickly absorbed balm with sesame, grape seed and macadamia nut oil leaves your feet feeling soft and supple. Since the skin on our feet doesn't have many sebaceous glands, it quickly becomes rough and dry. Thanks to intensive care and lots of hydration, dry feet and cracked heels become noticeably smoother and softer.
FRESH body milk Our body milk with avocado and macadamia nut oil nourishes and soothes dry skin and makes it supple. Aloe vera fresh plant juice and bisabolol soothe irritation and tension. Magnolia bark extract has an antioxidant effect.
#4
The new FRESH sample box wash delivers a fresh body feel and contains everything you need for hair care and body hygiene when you're travelling. (3 x 50 ml, 1 x 10 ml & 1 x 15 ml – € 25.50).
FRESH body wash A delicious shower after a hot day – is there anything better? FRESH body wash cleanses the body thoroughly, hydrates, and refreshes with organic almond oil, orange fruit water and coconut oil.
FRESH shampoo Cleans the hair gently and lends it naturally beautiful shine. Carefully chosen natural substances give the hair suppleness and elasticity. The eco-friendly pump dispenser transforms the mild formulation into a delicately creamy foam.
FRESH stay fresh Our brand-new cleansing foam is the green and health-friendly alternative to moist toilet paper. The gentle foam contains natural ingredients such as globularia and cherry bud extract, and transforms any toilet paper into moist toilet paper.
FRESH deodorant A reliable deodorant is a must when travelling, but the form it takes is actually less important. RINGANA's innovative natural skin care FRESH deodorant is a highly effective, creamy white and nurturing water-in-oil emulsion. It protects against undesirable odours entirely without questionable aluminium salts and promotes the skin's natural sweat-regulating function with lemon verbena, orange fruit water and walnut extract. The FRESH deodorant sample (10 ml) can also be purchased individually for € 4.00.
FRESH tooth oil We don't want to do without toothpaste and mouthwash when we're in distant lands – so we're lucky that RINGANA has combined both in a single product. Our oil-based FRESH tooth oil is toothpaste and mouthwash rolled into one. It contains mild cleansing grains from silica, and it removes plaque ultra gently. The FRESH tooth oil with sesame oil, Javan turmeric and eucalyptus oil binds bad bacteria in the mouth, and contains absolutely no microplastic, artificial preservatives or the like. The FRESH tooth oil sample (15 ml) can also be purchased individually for € 2.70.
#5
No matter where you're going, sun protection is a must. Our waterproof and nano-free SPF 20 FRESH sunscreen (125 ml – € 38.60) uses natural mineral sun protection filters. Perfect for anybody who rejects synthetic UV filters and wants to combat the signs of sun-related skin aging.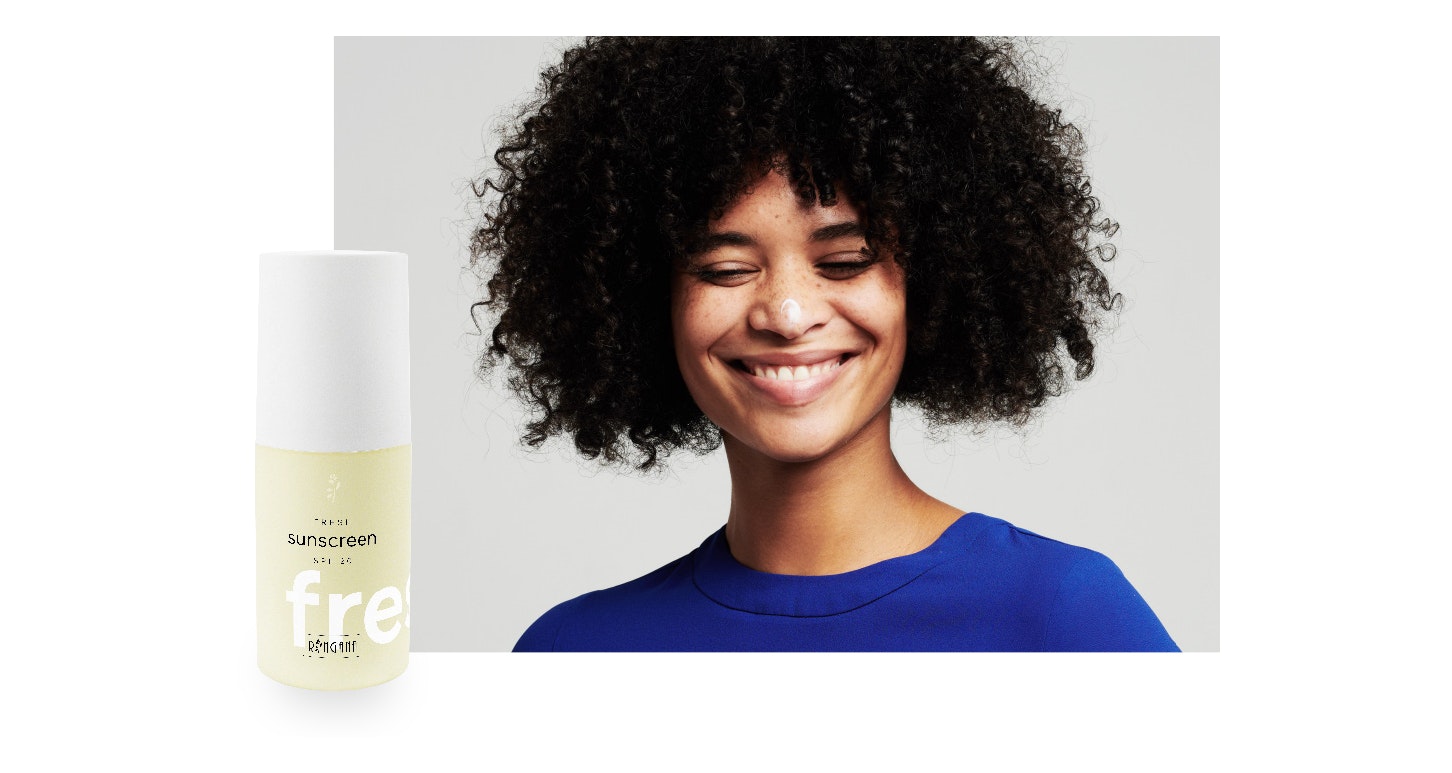 About RINGANA
RINGANA, founded in 1996 by Andreas Wilfinger and Ulla Wannemacher in Austria, produces fresh, vegan natural skin care and food supplements that are highly distinctive because they contain only pure substances from nature. All products are sustainably manufactured, free of animal testing, and contain no toxins. The products are manufactured at the RINGANA Fresh Factory in the Styrian town of Hartberg (Austria) from where they are sent directly to customers. A research team creates complex recipes that rely on antioxidant substances from nature, and use no preservatives and synthetic additives. It is not, however, only the ingredients in RINGANA products that reflect the company's sustainable approach: RINGANA products contain no artificial preservatives which is why many of the classic pots and tubes which may allow germs to get into the product, cannot be used. Packaging is therefore largely made of recyclable glass and sugar cane, a renewable resource. The company has over 250 employees and achieved net turnover of 80 million euros in 2018. Its focus markets include: Austria, Germany, Switzerland, Italy, Spain, France, UK and Poland. Its most popular products include: FRESH tooth oil, FRESH anti wrinkle serum, CAPS omega 3 vegiplus and RINGANAchi__.