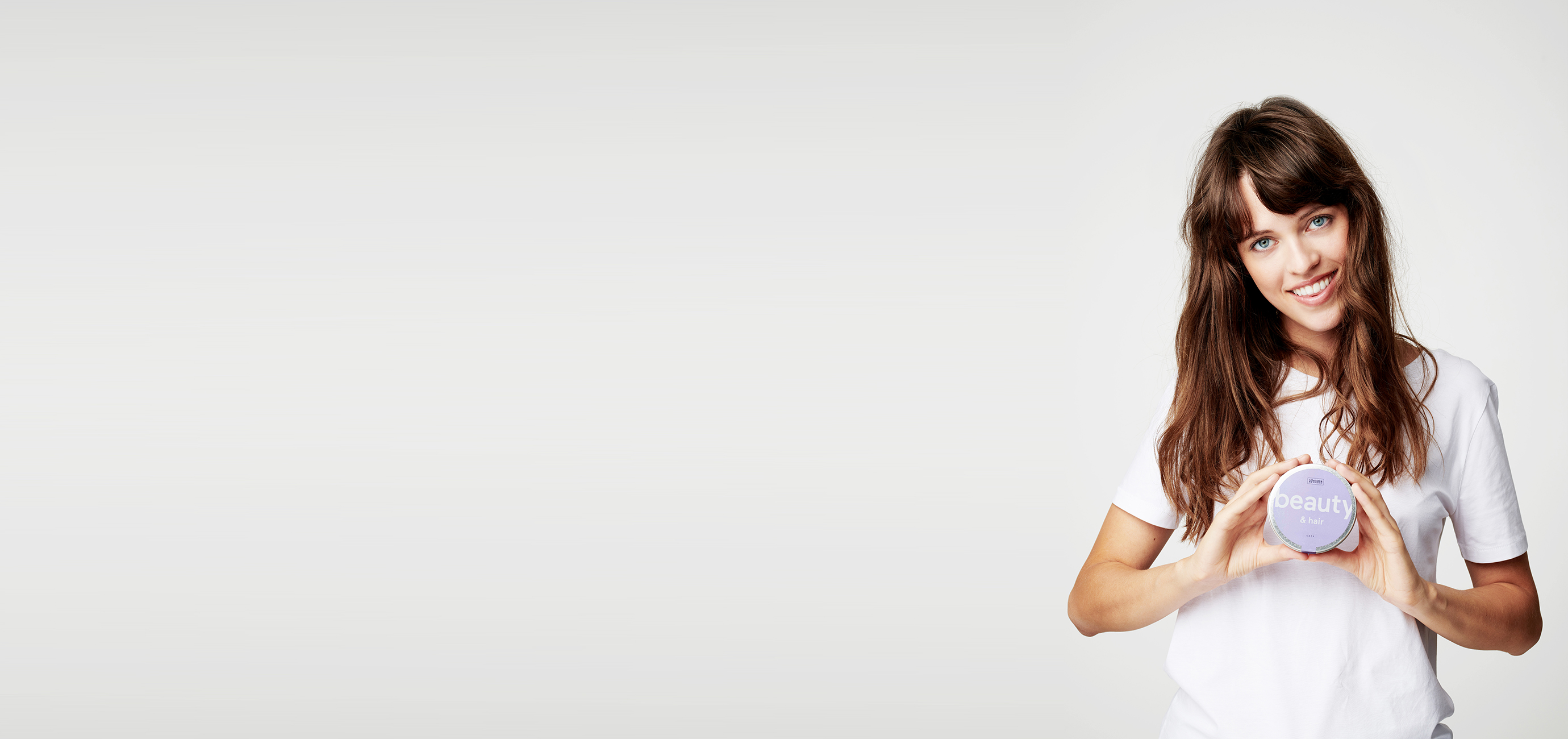 Good to know
The extent to which cellulite is visible depends on the deposits of fat in the fatty tissue in the hypoderm. That means diet plays a major role in the fight against these dimples. Changing your diet and consuming vital substances that strengthen the tissue can help a great deal. Sport, targeted care and massages to boost skin circulation are also important.
Plump, firm skin and shiny hair are signs of health and youthfulness. Environmental influences, stress and an unhealthy lifestyle can make our skin flabby, and lead to brittle hair and nails. With CAPS beauty & hair, natural vital substances come into play that help to strengthen skin, connective tissue, nails and hair from within.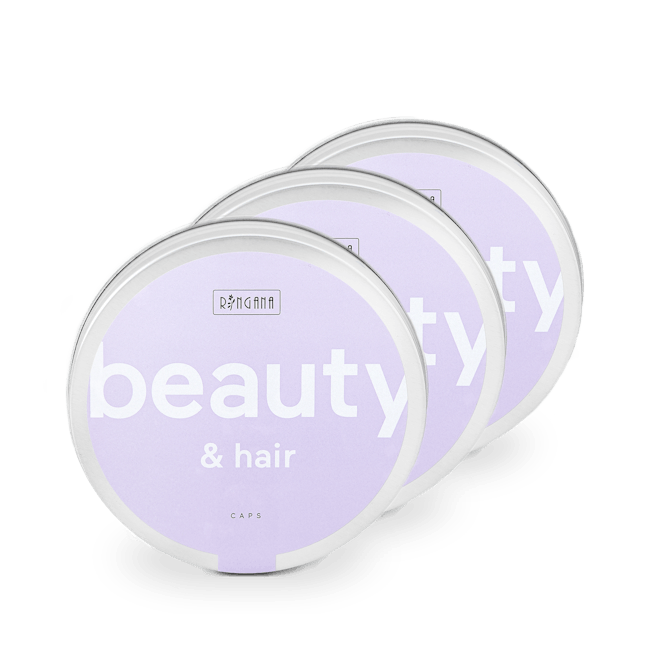 INGREDIENTS

L-carnosine, hydroxypropyl methylcellulose (capsule casing), saw palmetto extract, buckwheat sprout powder, pea sprout extract, hyaluronic acid, melon extract, lingonberry extract, green tea extract, sodium R-lipoate.
NUTRITIONAL INFORMATION
DD = Daily dose
per DD
% NRV° per DD
Standardised active substances
L-carnosine
465 mg
–
Saw palmetto extract
180 mg
–

Cultavit® buckwheat sprout powdercontains 

zinc

manganese

copper

167 mg

3,0 mg

0,6 mg

300 µg

 

30

30

30

Anagain™ Nu pea sprout extract
100 mg
–
Hyaluronic acid
45 mg
–

SOD B Dimpless® melon extract

of which superoxide dismutase activity

40 mg

480 IU

–

–

Sodium-R-lipoate

contains (R)-liponic acid

20 mg

16 mg

–

–

LingonMAX™ lingonberry extract

contains proanthocyanidins

Anthocyanins

30 mg

10,5 mg

3,0 mg

–

–

–

Green tea extract

contains polyphenols

21 mg

18,9 mg

–

–
° % NRV = % nutrient reference value according to the Food Information Regulation (EU)
Dimpless® is a brand of BIONOV.
Copper supports skin and hair pigmentation and contributes to the protection of cells from oxidative stress. Zinc contributes to the maintenance of skin and hair. Manganese contributes to the normal formation of connective tissue and copper aids to maintain it.
V 6.6
SOD from melons reduces the signs of cellulite and skin impurities, and refine the complexion. Hyaluronic acid promotes beautiful, even-toned skin. Saw palmetto extract supports natural hair growth: manganese and copper contribute to the formation of connective tissue. Zinc promotes healthy skin, hair and nail structure. Copper helps to protect cells against oxidative stress.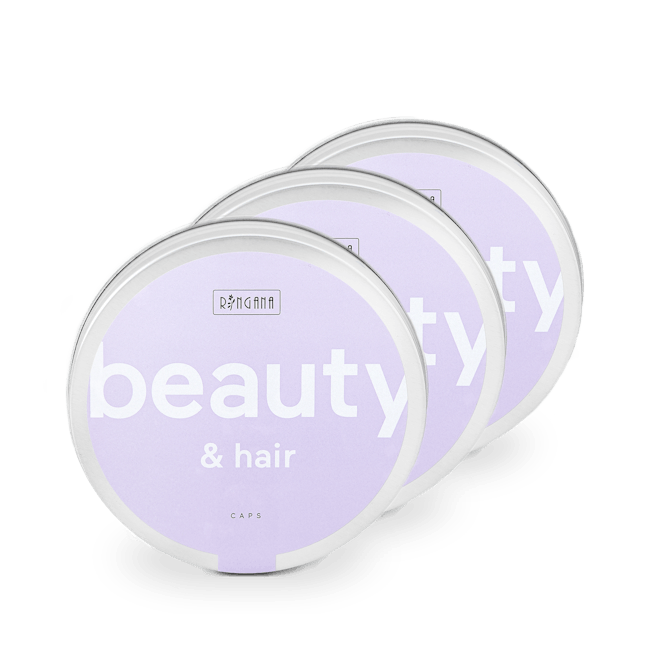 VERZEHREMPFEHLUNG
Tagesdosis: 3 Kapseln täglich. Für optimale Verträglichkeit am besten zu den Mahlzeiten mit etwas Wasser (ohne Kohlensäure) verzehren.
WICHTIGE HINWEISE
Die angegebene empfohlene tägliche Verzehrmenge darf nicht überschritten werden. Nahrungsergänzungsmittel sind kein Ersatz für eine abwechslungsreiche und ausgewogene Ernährung und eine gesunde Lebensweise. Das Produkt ist für Erwachsene konzipiert und außerhalb der Reichweite von kleinen Kindern zu lagern.
RINGANA CAPS sind keine Arzneimittel und sollen Arztbesuche nicht ersetzen. RINGANA CAPS sind nicht zum Behandeln oder Heilen von Krankheiten bestimmt. Wenn Sie unter ärztlicher Medikation stehen, Gesundheitsprobleme haben, stillen oder schwanger sind, konsultieren Sie vor der Einnahme von RINGANA CAPS Ihren Arzt.
Das Produkt ist trocken, nicht über 25 °C zu lagern. CAPS dürfen nicht einzeln an Dritte weitergegeben werden. Aufgrund der besonderen Eigenschaften einzelner Inhaltsstoffe kann es zu Verfärbungen und Fleckenbildung der RINGANA CAPS kommen. Verpackung aus umweltfreundlichem Weißblech.
Nicht während der Schwangerschaft und Stillzeit anzuwenden.