Too much meat and alcohol can lead to overacidification of our bodies. This can upset the interaction of acids and alkalis, and their balance. PACK balancing makes a valuable contribution to restoring that balance.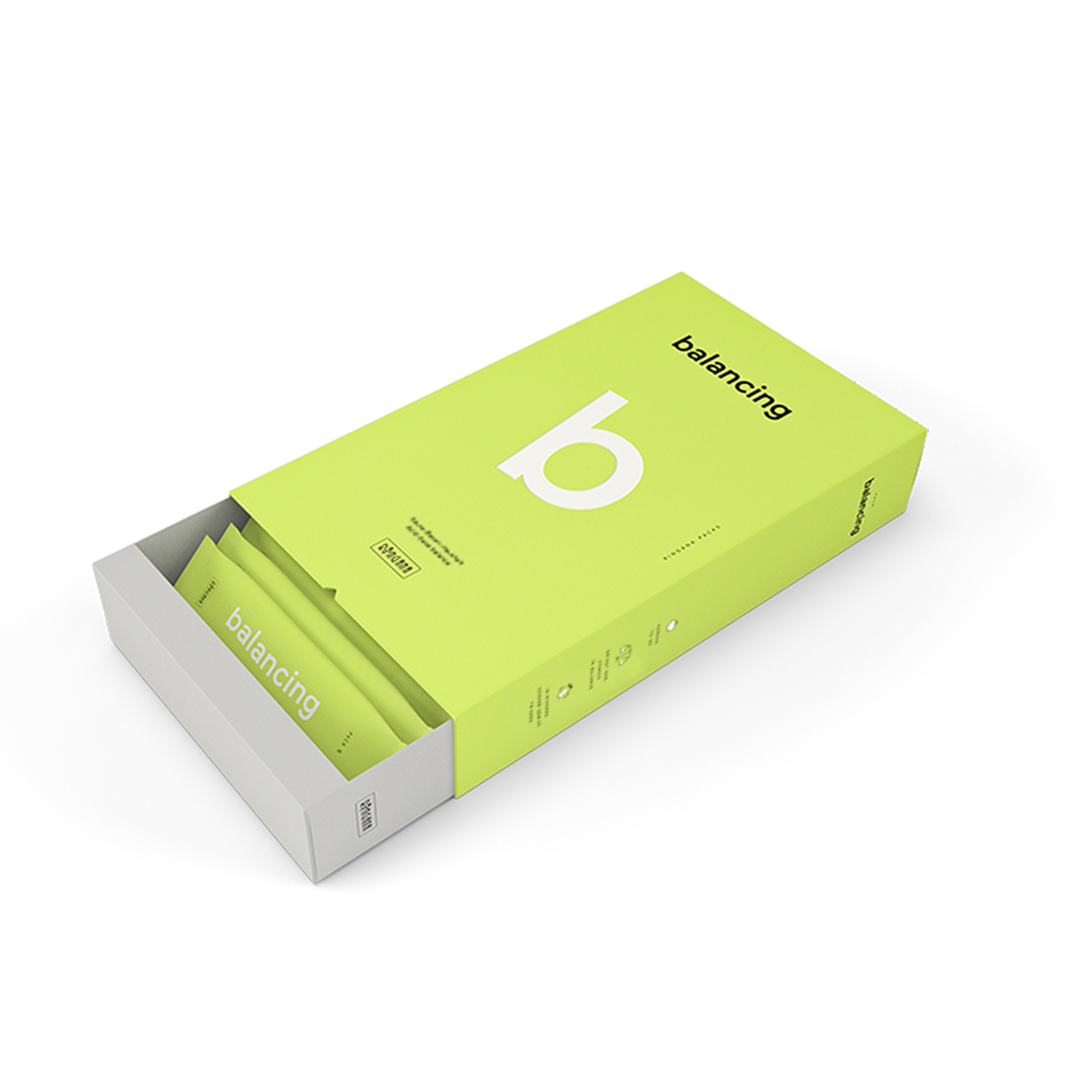 INGREDIENTS
Calcium citrate, 23.1 % tomato powder, magnesium citrate, buckwheat sprout powder, 4 % kamut grass juice powder, acerola juice powder, barley grass juice powder, lemon juice powder, 2.8 % carrot powder, sea salt, parsley leaf powder, 1.5 % spirulina algae powder, 1.5 % chlorella algae powder, alfalfa powder, rice bran extract, black pepper, nettle leaf powder, champignon powder, Vitamin K2 (menaquinone-7), 5MTHF-glucosamine (folate).
NUTRITIONAL INFORMATION
DD = Daily dose

per DD
% NRV* per DD
per 100 g

Nutritional information

 
 
 

Energy

 

113 kJ

27 kcal

–

–

1132 kJ

271 kcal

Fat

of which saturates

0,2 g

0,0 g

–

–

1,7 g

0,3 g

Carbohydrates

of which sugars

2 g

1 g

–

–

24 g

12 g

Fibre
1 g
–
13 g
Protein
1,0 g
–
9,8 g
Salt
0,2 g
–
2,2 g
Vitamins
 
 
 

Vitamin B1 (thiamin)

Vitamin B2 (riboflavin)

Niacin

Pantothenic acid

Vitamin B6

Biotin

Vitamin B12 (methylcobalamin)

   from Cultavit®

   sprouted buckwheat powder

1,1 mg

1,4 mg

16 mg

6,0 mg

1,4 mg

50 µg

2,5 µg

 

 

100

100

100

100

100

100

100

 

 

11 mg

14 mg

160 mg

60 mg

14 mg

501 µg

25 µg

 

 

Folate from Quatrefolic® 
5MTHF-glucosamine

200 µg

100
2000 µg
Vitamin C from acerola cherry and alfalfa powder
52 mg
65
521 mg
Vitamin K2 (menaquinone-7) from natural Bacillus subtilis natto-ferment

75 µg

100

750 µg

Vitamin E as α-TE

      Tocopherole (α, β, γ, δ)

      Tocotrienole (α, β, γ, δ)

  from rice bran extract

4,0 mg

6,5 mg

5,6 mg

 

33

–

–

 

40 mg

65 mg

56 mg

 

Vitamin D2 from mushroom powder

5,0 µg 

100

50 µg

Minerals

Calcium from calcium citrate, barley grass juice, alfalfa and chlorella powder

601 mg

75

5990 mg

Magnesium from magnesium citrate, chlorella and alfalfa powder

246 mg

66

2440 mg

Zinc

Copper

Manganese

Selenium

   from Cultavit® sprouted               buckwheat powder

3,4 mg

340 µg

0,78 mg

22 µg

 

 

34

34

39

40

 

 

34 mg

3400 µg

7,8 mg

220 µg

 

 

Weitere Inhaltsstoffe
Tomato powder
2313 mg
–
23,1 g
KAMUT® khorasan wheat grass juice powder
400 mg
–
4,0 g
Acerola cherry juice powder
305 mg
–
3,1 g
Barley grass juice powder
300 mg
–
3,0 g
Lemon juice powder
290 mg
–
2,9 g
Carrot powder
280 mg
–
2,8 g
Parsley leaf powder
180 mg
–
1,8 g
Spirulina algae powder
150 mg
–
1,5 g
Chlorella algae powder
150 mg
–
1,5 g
Alfalfa powder
100 mg
–
1,0 g
Black pepper
50 mg
–
0,5 g
Stinging nettle leaf powder
50 mg
–
0,5 g
Zinc contributes to normal acid-base metabolism. Magnesium supports the electrolyte balance.
KAMUT® is a registered brand of Kamut Enterprises of Europe and is used under licence.
* % NRV = % nutrient reference value according to the Food Information Regulation (EU)
V 7.0
The zinc contained in buckwheat supports natural acid-alkali balance. Vitamins B1, B2, B6 and B12 work with manganese, copper and biotin to boost the energy metabolism. Black pepper supports liver function by promoting blood circulation. Other selected active substances: Folate, nettle leaf powder, Khorasan wheat grass juice powder, spirulina and chlorella alga powder, parsley leaf powder, alfalfa powder, carrot powder, tomato fruit powder, Vitamin K2 from Bacillus subtilis natto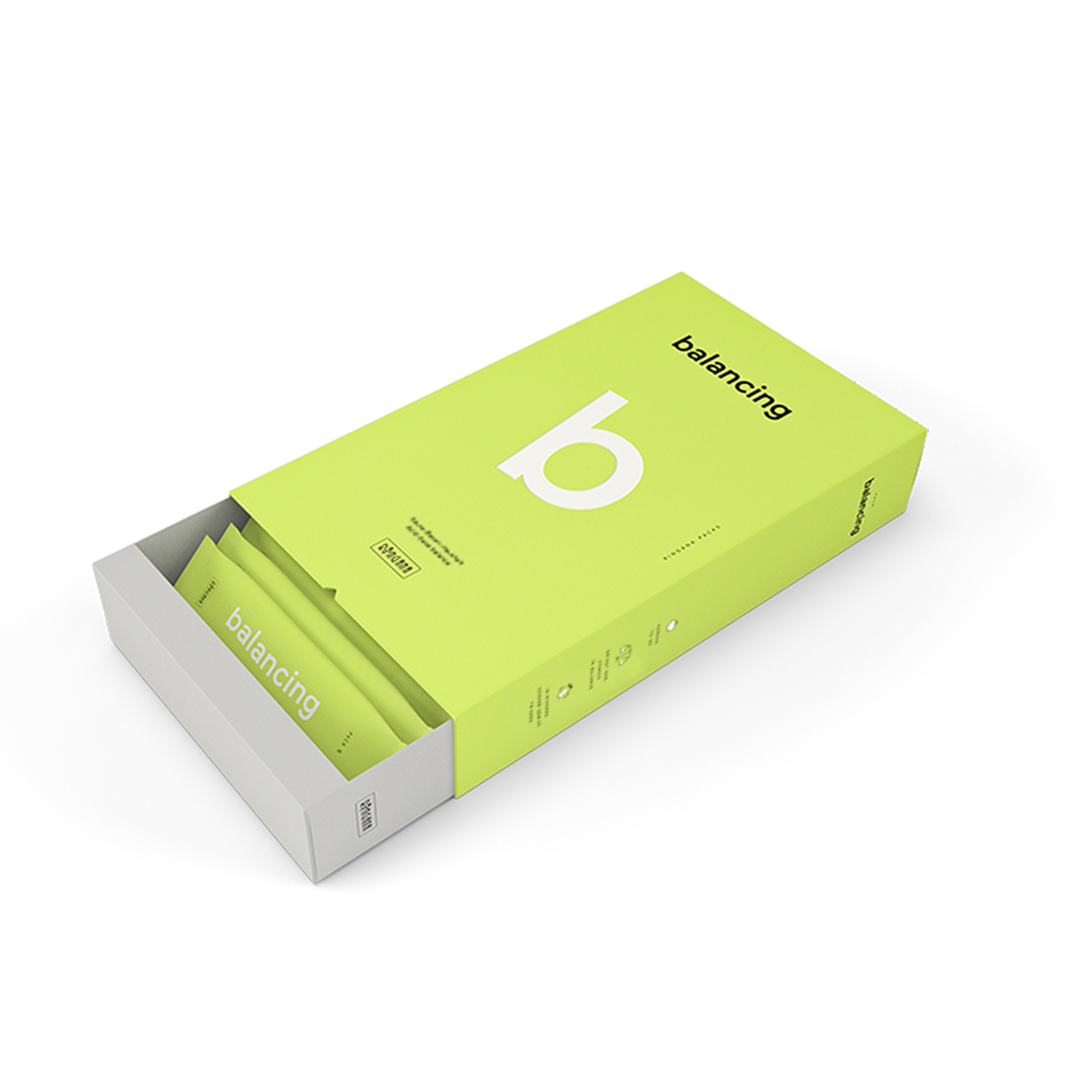 VERZEHREMPFEHLUNG
Einmal täglich den Inhalt eines Sachets je nach Geschmack mit Wasser verdünnen und trinken. Verwenden Sie dazu am besten den RINGANA Shaker mit dem PACK Shaker Ball. PACK balancing kann zu jeder Tageszeit eingenommen werden. Nicht für Kinder vorgesehen. Die empfohlene Tagesdosis darf nicht überschritten werden.
WICHTIGE HINWEISE
RINGANA PACKS sind keine Arzneimittel und sollen Arztbesuche nicht ersetzen. RINGANA PACKS sind nicht zum Behandeln oder Heilen von Krankheiten bestimmt. Wenn Sie unter ärztlicher Medikation stehen, Gesundheitsprobleme haben oder schwanger sind, kon sultieren Sie vor der Einnahme von RINGANA PACKS Ihren Arzt. Wenn Sie an Nahrungsmittelallergien oder -unverträglichkeiten leiden, beachten Sie bitte die Zutatenliste Ihres Produktes. Nahrungsergänzungsmittel sind kein Ersatz für eine abwechslungsreiche sowie ausgewogene Ernährung und eine gesunde Lebensweise. Das Produkt ist trocken, nicht über 25 °C und außerhalb der Reichweite von kleinen Kindern zu lagern. Sachets dürfen nicht einzeln an Dritte weitergegeben werden.