WPD3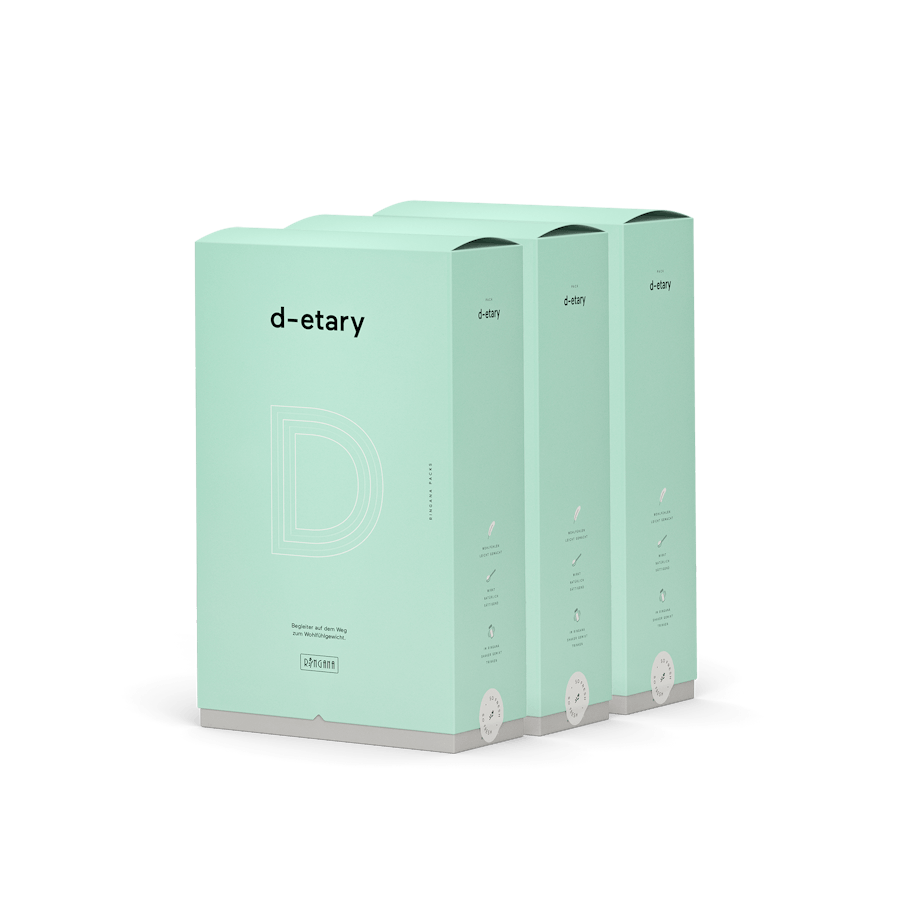 PACK d-etary, 3-Pack
The weight you're comfortable with
xx ML - xxxx €
inkl. gesetzlicher MwSt., zzgl. Shipping costs
€ xx pro xx ml
Preis Erstbesteller xxx
PACK d-etary's metabolically active micronutrients* and minimum calories will help you on your way to reaching the weight you feel comfortable with.
Lieferbar in 1-5 Tagen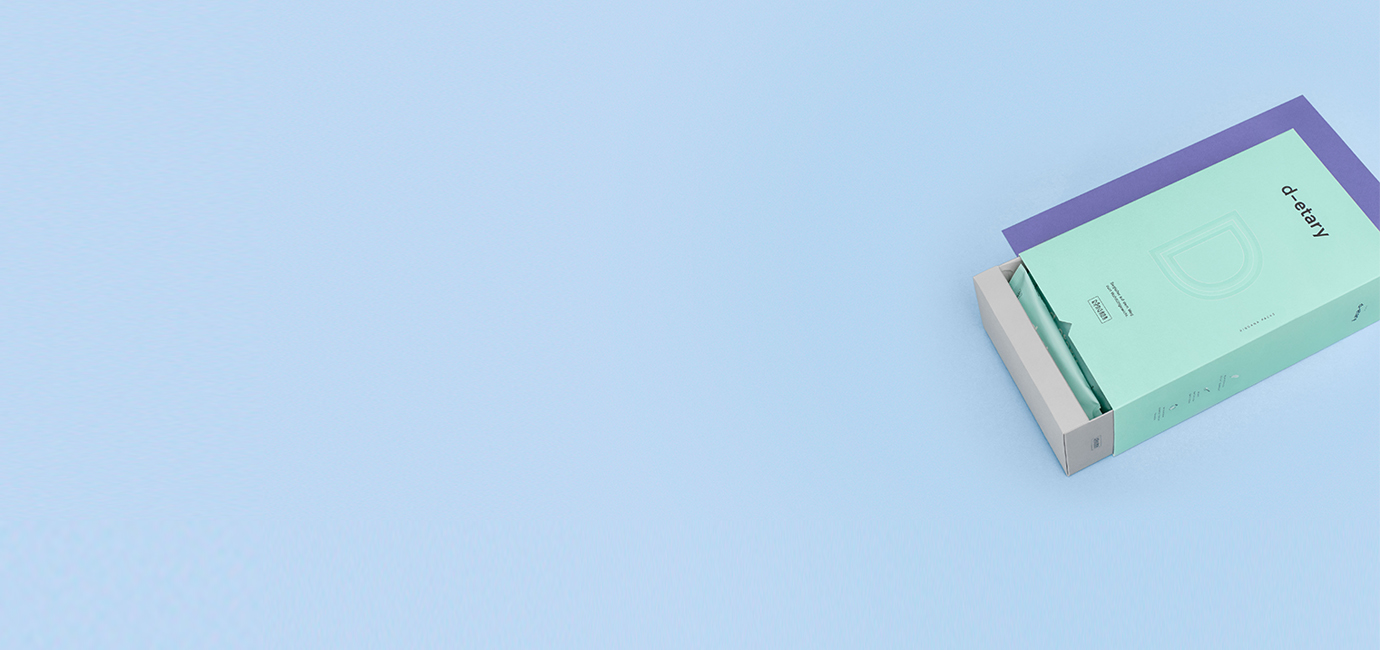 Good to know
One veggie day per week can balance out minor dietary sins, and it's a sensible way of ramping up the metabolism and giving the body a vitamin boost.
PACK d-etary's metabolically active micronutrients and minimum calories will help you on your way to reaching the weight you feel comfortable with.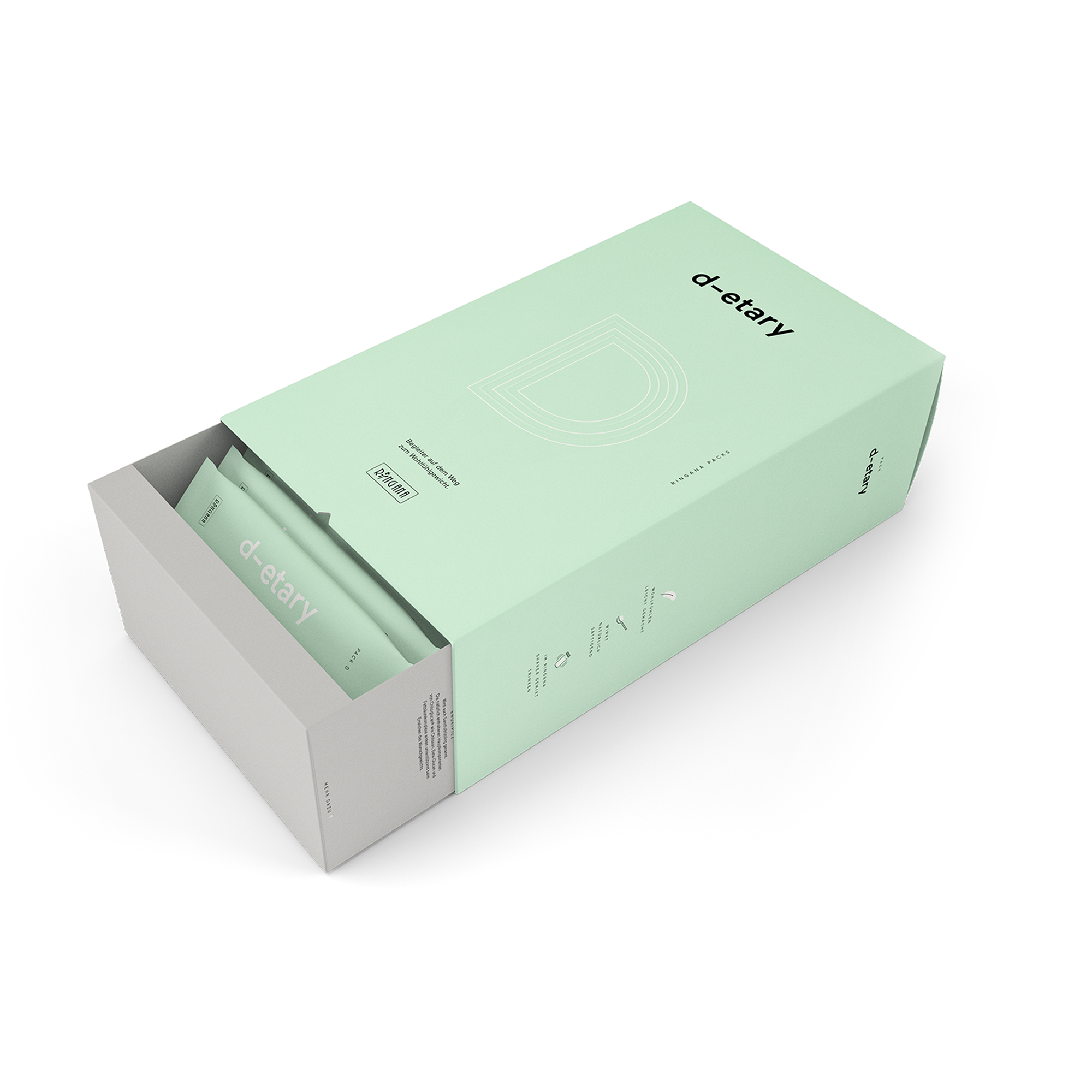 INGREDIENTS
40.5 % pineapple juice powder, 28.9 % baobab fruit pulp powder, calcium citrate, konjak glucomannan, magnesium citrate, safflower oil powder (contains dairy and soy), sweetener: erythritol, acerola fruit juice powder, 1.3 % quinoa sprout powder, potato extract, buckwheat sprout powder, 0.5 % enoki mushroom extract, African mango seed extract, Cissus quadrangularis extract, chili powder, saffron extract, L-selenomethionine.
NUTRITIONAL DATA
DD = daily dose
per DD
(2 sachets)
% NRV* per DD
per 100 g
Nutritional information
 
 
 
Energy

238 kJ

57 kcal

–

1192 kJ

285 kcal

Fat

of which saturated fatty acids

0.8 g

0.1 g

–

4.1 g

0.3 g

Carbohydrates

of which sugars

10 g

4 g

–

50 g

21 g

Fibre
4 g
–
20 g
Protein
0.4 g
–
1.9 g
Salt
0.02 g
–
0.08 g
Natural vitamins
 
 
 
Vitamin C
(from acerola cherry juice powder and baobab fruit pulp powder)
65 mg
81
320 mg

PANMOL® quinoa germ powder
contains

Niacin

Pantothenic acid

Vitamin B2 (riboflavin)

Vitamin B6 (pyridoxine)

Vitamin B1 (thiamin)

Folic acid

Biotin

Vitamin B12 (cobalamin)

275 mg



5.4 mg

2.0 mg

0.46 mg

0.48 mg

0.37 mg

66.0 μg

17 μg

0.83 μg


34

33

33

34

34

33

33

33

1375 mg


27mg

9.9 mg

2.3 mg

2.4 mg

1.9 mg

330 μg

83 μg

4,1 μg

Minerals
 
 
 
Calcium (from calcium citrate and baobab fruit pulp powder)
270 mg
34
1350 mg
Magnesium (from magnesium citrate and baobab fruit pulp powder)
135 mg
36
675mg

Cultavit® S1 buckwheat germ powder                        contains

Zinc

Manganese

Copper

170 mg



3.3 mg

0.64 mg

310 μg

–


33

32

31

850 mg


17 mg

3.2 mg

1550 μg

Selenium (from selenomethionine)
18 μg 
33
91 μg
Fruit powder and active substances
 
 
 
Pineapple juice powder
8100 mg
–
40.5 g
Baobab fruit pulp powder
(baobab tree)
5780 mg
–
28.9 g
Konjac glucomannan
1200 mg
–
6.0 g

Clarinol® safflower oil powder

contains Conjugated linoleic acid

891 mg

544 mg

–

–

4.5 g

2.7 g

Erythritol
500 mg
–
2.5 g
Slendesta® potato extract
198 mg
–
1.0 g
Chitoglucan® enoki mushroom extract
116 mg
–
0.6 g
WellTrim® iG African
mango seed extract
99 mg
–
0.5 g
SyneTrim® CQ
Cissus quadrangularis extract
99 mg
–
0.5 g
Chilli powder
80 mg
–
0.4 g
Satieral® saffron extract
58 mg
–
0.3 g
* % NRV = % nutrient reference value according to the Food Information Regulation (EU) No 1169/2011
SATIEREAL® is a registered brand of INOREAL and is patent pending in Europe.
Calcium, magnesium, Vitamin C and biotin contribute to normal energy-yielding metabolism. Zinc supports the carbohydrate metabolism. Calcium contributes to the normal function of digestive enzymes.
V 5.3
The energy metabolism is brought back into natural balance with the help of manganese, copper and a Vitamin B complex. Magnesium from baobab fruit and zinc from buckwheat contribute to protein synthesis which in turn is essential for muscle­building. Zinc from buckwheat germ powder plays a key role in the metabolisation of carbohydrates, proteins and fats. Selenium promotes normal thyroid function which in turn has an effect on our weight.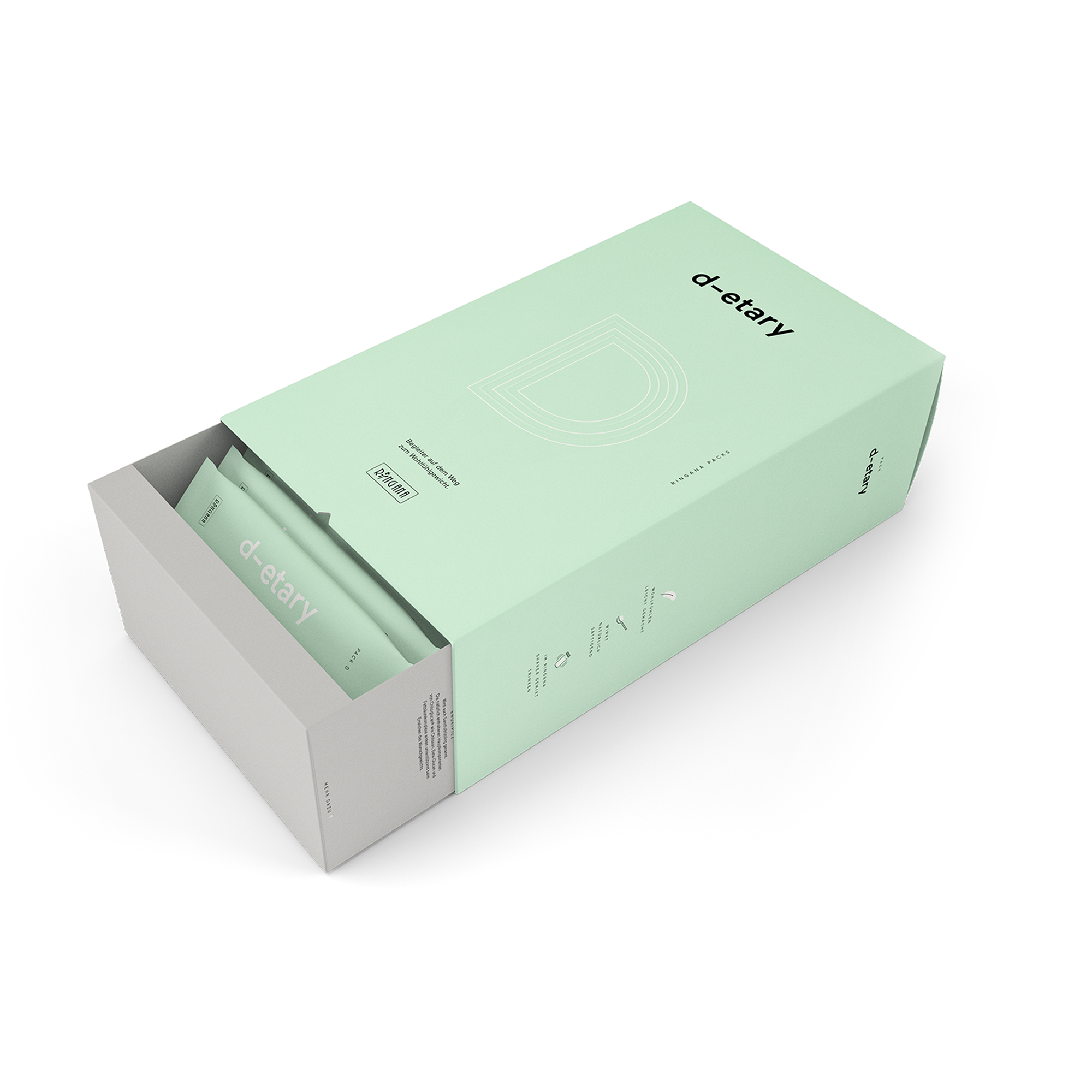 RECOMMENDED CONSUMPTION
Dilute the contents of a sachet with water to taste twice a day and drink 1/2 hour before meals. This is best done using the RINGANA Shaker with the PACK shaker Ball. Not intended for children. The recommended daily dose must not be exceeded.
IMPORTANT INFORMATION
RINGANA PACKS are not medicines and should not take the place of medical consultations. RINGANA PACKS are not intended for treating or healing diseases.If you are taking medication on the advice of a doctor, have health problems, or are pregnant, consult your physician before taking RINGANA PACKS. If you suffer from food allergies or intolerances, please note the list of ingredients for your product. Food supplements are not a substitute for a balanced, varied diet and a healthy lifestyle. Store the product dry, at a temperature of less than 25°C, and keep out of reach of children. Sachets may not be passed on individually to third parties.