RSB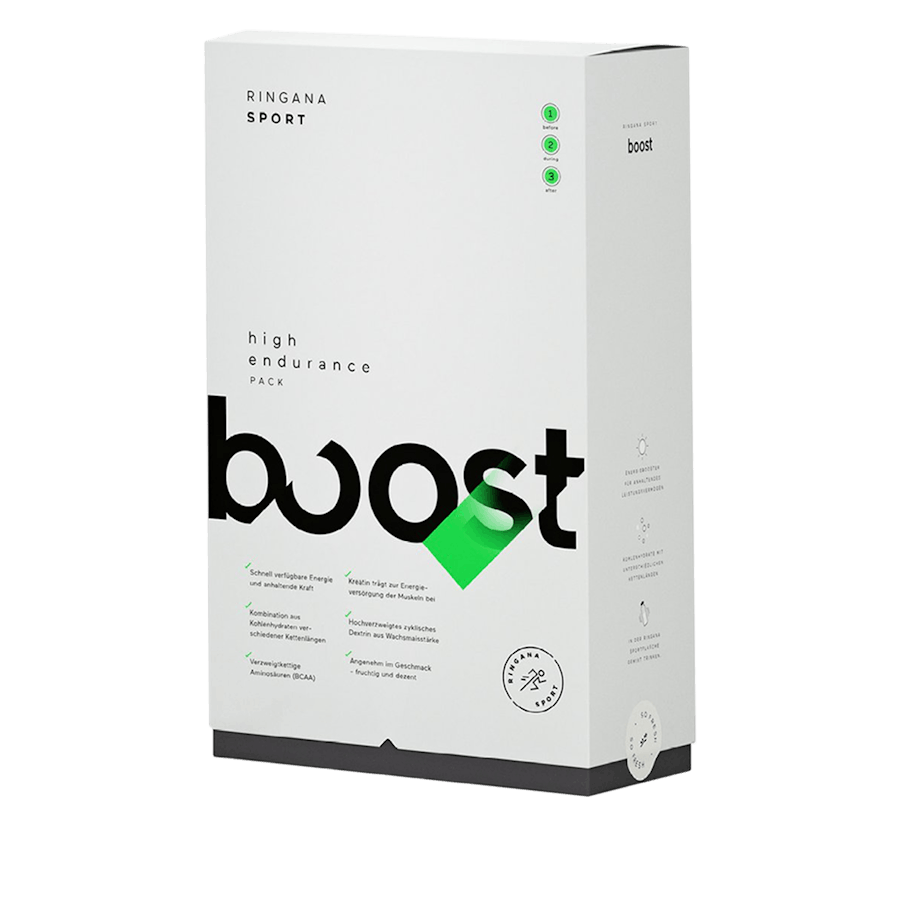 RINGANA SPORT boost
Peak performance
xx ML - xxxx €
inkl. gesetzlicher MwSt., zzgl. Shipping costs
€ xx pro xx ml
Preis Erstbesteller xxx
RINGANA SPORT boost quickly and lastingly increases physical performance, combats fatigue and replenishes energy levels with carbohydrates and amino acids (e.g. BCAA). Content: 14 sachets
Lieferbar in 1-5 Tagen
Whether you're training or in competition, a high­quality supply of nutrients is essential for peak performance. RINGANA SPORT boost replenishes empty energy reserves with the perfect combination of carbohydrates, amino acids and electrolytes – quickly and, most importantly, lastingly.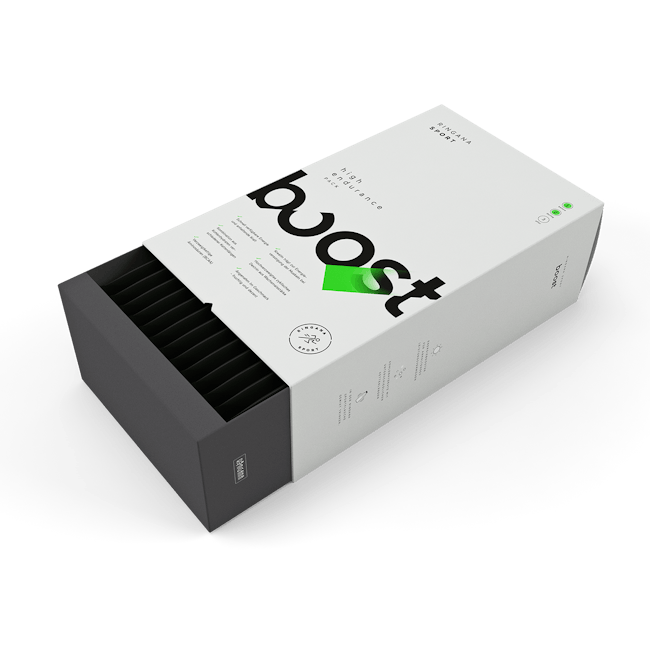 INGREDIENTS
Branched-Chain Cyclic Dextrin, Isomaltulose*, Dextrose, Sweetener: Xylitol, BCAA mix (L-Leucine, L-Isoleucine, L-Valine, Emulsifier: Sunflower Lecithin), Creatine Citrate, Maltodextrin, 2.8% Coconut Water Powder, Passion Fruit Juice Powder, Pineapple Juice Powder, L-Lysine Hydrochloride, Sea Salt, L-Phenylalanine, L-Threonine, L-Alanyl-L-Glutamine, L-Methionine, Lemon Juice Powder, Acerola cherry Juice powder, L-Tryptophan, Ashwagandha Root and Leaf Extract, Iron Pyrophospate.
°Isomaltulose is a source of glucose and fructose.
 NUTRITIONAL DATA
Daily dose = 100 g

per 100 ml drink

per Sachet
per 100 g
Nutritional information
 
 
 
Energy

125 kJ

30 kcal

791 kJ

187 kcal

1582 kJ

373 kcal

Fat

of which saturated fatty acids

0,0 g

0,0 g

0,1 g

0,0 g

0,1 g

0,1 g

Carbohydrates

of which sugars

6,0 g

5,3 g

38,3 g

33,6 g

76,5 g

67,1 g

Protein
1,2 g
7,7 g
15,3 g
Salt
0,2 g
1,1 g
2,1 g
Carbohydrates
 
 
 
Cluster Dextrin® (highly branched cyclic dextrin)
 
15,0 g
30,0 g
Palatinose™ (isomaltulose)
 
12,6 g
25,2 g
Dextrose (D-glucose)
 
5,0 g
10,0 g
Maltodextrin
 
2,4 g
4,8 g
Branched-chain and essential
amino acids and dipeptides
 
 
 

Vegan BCAA blend (2:1:1) contains

L-leucine*

L-isoleucine*

L-valine*

 


1,2 g

0,6 g

0,6 g


2,4 g

1,2 g

1,2 g

L-lysine* hydrochloride
 
0,7 g
1,4 g
L-phenylalanine*
 
0,6 g
1,3 g
L-threonine*
 
0,6 g
1,1 g
Sustamine® (L-alanyl-L-glutamine)
 
0,6 g
1,1 g
L-methionine*
 
0,4 g
0,7 g
L-Tryptophan*
 
0,2 g
0,4 g
*essential amino acids
 
 
 
Active substances and fruit powder
 
 
 
Creatine citrate based on Creapure®
 
2,4 g
4,8 g
Coconut water powder
 
1,4 g
2,8 g
Passion fruit juice powder
 
1,0 g
2,0 g
Pineapple juice powder
 
0,8 g
1,6 g
Lemon juice powder
 
0,3 g
0,5 g
Sea salt
 
0,7 g
1,4 g
Sensoril® ashwangandha root and leaf extract (10% withanolides)
 
0,1 g
0,3 g
Vitamins and minerals
 
 
 

Vitamin C (from acerola cherry powder)

corresponds to NRV**

40,8 mg

51%

81,6 mg

102%

LIPOFER™ iron (from ferric pyrophosphate)

corresponds to NRV**

7,0 mg

50%

14,0 mg

100%
** % NRV = % nutrient reference value according to the Food Information Regulation (EU) No 1169/2011
Each batch is tested for anabolic steroids and stimulants by a world-leading laboratory in the analysis of doping substances in food supplements.
Sensoril® is a trademark of Natreon, Inc. Sustamine® is a registered trademark of KYOWA HAKKO BIO CO., LTD. LIPOFER™ is a trademark of the Lubrizol Corporation.
V 2.5
The sophisticated carbohydrate­electrolytic solution helps to preserve endurance during longer training sessions and improves water absorption during physical activity. Vitamin C and iron reduce tiredness and fatigue. In addition, Vitamin C improves the absorption of iron which is a component of red blood cells and is necessary for blood formation and oxygen transport. Ashwagandha root and leaf extract promote the maintenance of physical and mental capacity in the event of over­exertion and loss of concentration. Creatine boosts physical performance when you're engaged in short intense bursts of physical activity.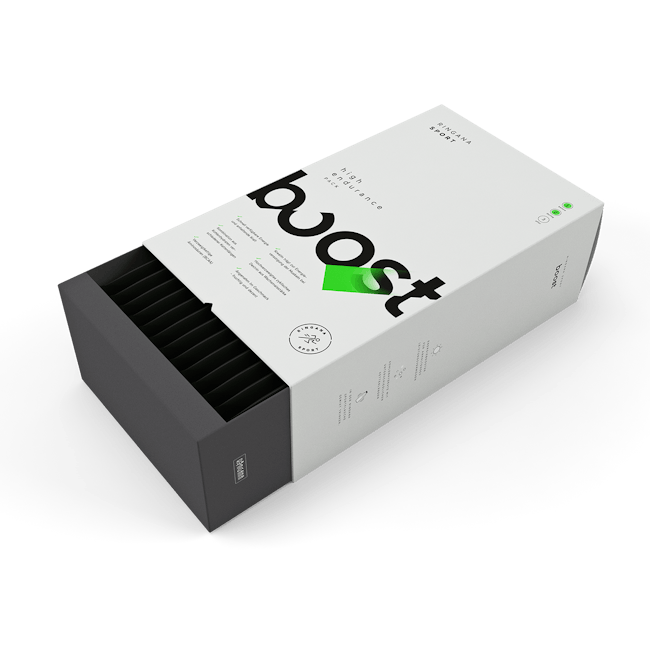 RECOMMENDED CONSUMPTION
For the preparation of an isotonic beverage, mix the contents of one sachet with 600 ml of water and drink half an hour before, during or after the sport. Shake well before drinking.
WARNING
This food supplement is not suitable for pregnant women or for children and is intended for adults who engage in intense physical activity.
IMPORTANT INFORMATION
RINGANA PACKS are not medicines and should not take the place of medical consultations. RINGANA PACKS are not intended for treating or healing diseases. If you are taking medication on the advice of a doctor, have health problems, or are pregnant, consult your physician before taking RINGANA PACKS. If you suffer from food allergies or intolerances, please note the list of ingredients for your product. Food supplements are not a substitute for a balanced, varied diet and a healthy lifestyle. Store the product dry, at a temperature of less than 25°C, and keep out of reach of children. Sachets may not be passed on individually to third parties. Every batch is tested for anabolic steroids and stimulants by a laboratory that is a world leader in food supplement analytics and doping substances.