Good to know
The basic rules for detoxing are: no smoking, no alcohol, lots of gentle movement in the fresh air, little or no animal protein, adequate water and tea, adequate sleep, no sugar, no convenience products and positive thinking (meditation, relaxation techniques). The RINGANA food supplements offer the ideal support while detoxing. They help to purify the body and deliver important nutrients and vital substances.
"Tea is drunk to forget the din of the world." (T'ien Yi-heng) And while you're doing that, why not lose weight at the same time? The innovative tea drink RINGANAdea_ _ combines purely natural ingredients in a single highly concentrated shot. This unique formulation makes this beauty shot the perfect companion for a figure-conscious lifestyle.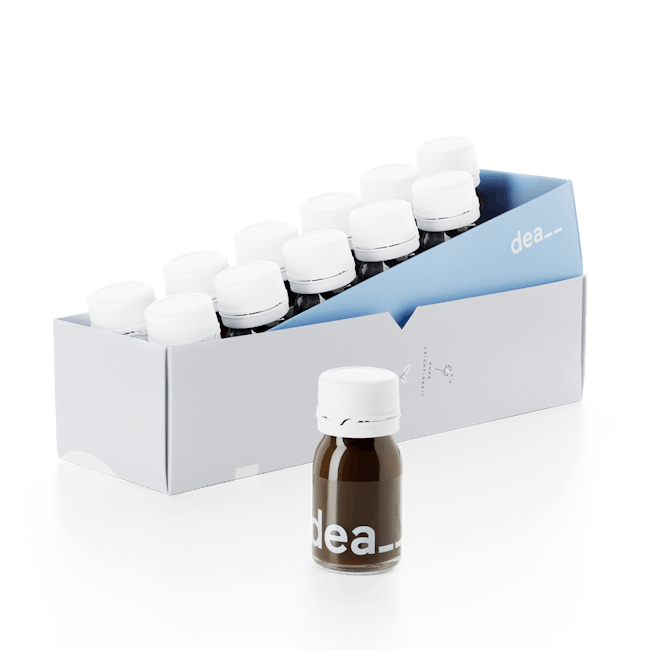 INGREDIENTS
Water, maracuja fruit juice concentrate, isomaltulose*, fructooligosaccharides, prickly pear juice powder, mate leaf extract, mango fruit juice concentrate, extract from green coffee beans, mulberry leaf extract, lemon balm extract, mugwort leaf extract, extract from holy basil leaves, green tea extract, acidity regulator: lactic acid, bitter orange extract, rosemary leaf extract, brown algae extract from Laminaria japonica, acerola Juice powder, thickening agent: gellan gum.
*Isomaltulose is a source of glucose and fructose
NUTRITIONAL DATA
DD = daily dose
per DD (30 ml)
per 100 ml
Fruit concentrates
 
 
Maracuja fruit juice concentrate
7128 mg
23.8 g
Mango fruit juice concentrate
594 mg
2.0 g

acerola juice powder

contains Vitamin C
corresponds 17 % NRV°

78 mg

13 mg

261 mg

44 mg

Sweeteners and fibre
 
 
Palatinose™ (isomaltulose)
3564 mg
11.9 g
Actilight® fructooligosaccharides
2970 mg
9.9 g
Energising and secondary plant substances
 
 

Cacti-Nea™ prickly pear fruit juice powder

of which betalaine

950 mg

475  µg

3.2 g

1.6 mg

Mate leaf extract
594 mg
2.0 g

Svetol® extract from green coffee beans

        of which polyphenols

        of which chlorogenic acid

475 mg

238 mg

214 mg

1.6 g

800 mg

720 mg

OB-X® mulberry, lemon balm, mugwort extract

of which rosmarinic acid

356 mg

7 mg

1.2 g

24 mg

Extract from holy basil leaves

of which tannins

238 mg

24 mg

792 mg

79.2 mg

Sunphenon® green tea extract

of which polyphenols

of which epigallocatechin gallate (EGCG)

178 mg

160 mg

80 mg

594 mg

535 mg

267 mg

ThinOgen™ brown algae extract

of which fucoxanthin

119 mg

1 mg

396 mg

4,0 mg

Rosemary leaf extract
119 mg
396 mg
Total caffeine from mate leaves, Svetol® green coffee bean and green tea extract
26 mg
86.7 mg
Vitamin C contributes to normal energy-yielding metabolism.
Svetol® is a trademark of Naturex S.A.
° % NRV = % nutrient reference value according to the Food Information Regulation (EU) 
V 4.3
Mate leaf extract helps the body with weight control. Rosemary extract stimulates fat-burning. Prickly pear fruit powder with betalain helps to keep glucose levels in balance which in turn assists with controlling appetite. Mulberry leaf extract keeps the carbohydrate metabolism in balance. Vitamin C from acerola fruit juice powder promotes natural collagen production for a beautiful skin.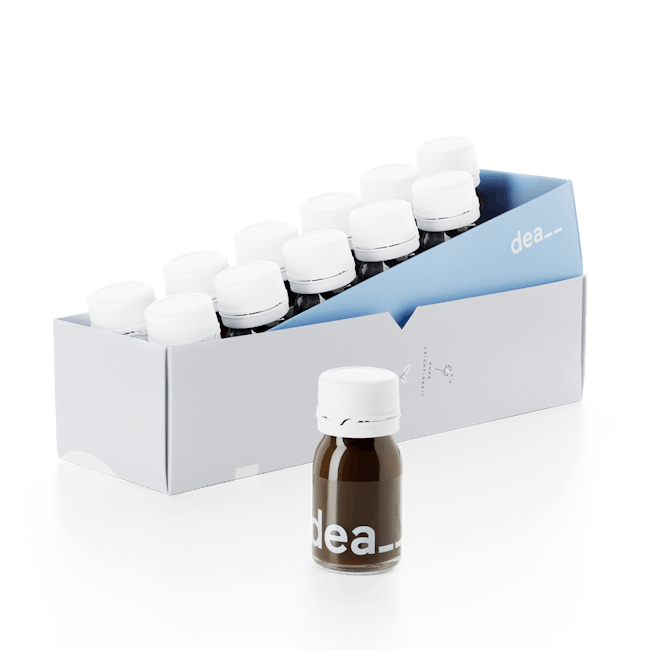 Infuse 1 bottle (à 30 ml) RINGANAdea__ with 0.75 l of water and drink a little throughout the day.
Shake well before use. Do not store at above 25°C.
Do not exceed the recommended daily dose. Food supplements are not a substitute for a balanced, varied diet and a healthy lifestyle. Keep the product out of the reach of children. Contains caffeine. Not recommended for children or women who may be pregnant or nursing (25 mg caffeine per 30 ml).